Take a look at our glass balustrade projects below
Since launching SMART Balustrades, we've helped more than 800 happy customers with projects of varying sizes and styles. Feel free to read some of our excellent TrustPilot reviews, or delve deeper into our client case studies below to see our consultation to installation process, and see how our expert team could help you. 
Crowne Plaza/Holiday Inn Express Dual Brand Hotel, Heathrow Terminal 4
Client: Grove Developments/Arora Hotels
Contract value: £362k
Products used:  
0.74kN loading stainless steel with glass balustrade to stairs
1.5kN loading structural glass balustrade to link bridges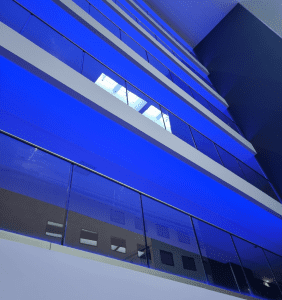 The dual-brand Crowne Plaza and Holiday Inn Express, which operates under Arora Hotels, is located at Heathrow Terminal 4 and opened in 2018. It consists of 300 rooms as well as business and meeting facilities. The building is directly connected to Heathrow's Terminal 4 via an air bridge and also offers convenient access to the London Underground, Heathrow Express train service and nearby major motorway routes. 
We were instructed to supply and install more than 600 metres of balustrades, as well as over 300 metres of wall fixed handrails during the hotel's construction phase. 
The balustrades used for the project were 1.5kn structural glass balustrades to bridges and 0.74kN loading stainless steel with glass balustrade to stairs. 
We provided approximately 300 metres of structural glass balustrades to the hotel's link bridges. At the design stage of the project, we were advised that the bridges could deflect by 25mm, so our balustrade design had to accommodate this. 
The solution was simple but very effective – we left a 5mm gap in between each five-metre length of track, which was not noticeable when walking along the bridges but allowed for adequate movement in the structure with no damage to the balustrades or the finishes, and no compromise to the overall look. 
In addition, we adapted our handrail system to provide protection to the walls where guests wheel trollies and luggage into the hotel. By fixing handrails along the flooring close to the walls, it provided a functional yet attractive solution to avoid any marks or scratches that luggage might create.
The overall result was a mix of balustrades to the hotel's stairs and link bridges, plus handrail finishes to the high-traffic areas of the premises that all fit in with the building's modern and clean design.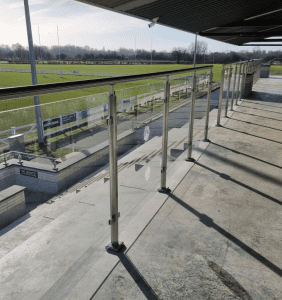 Burton Rugby Club, Burton-on-Trent
Client: RL Harrison
Contract value: £50k
Products used:
3kN loading rectangular post balustrade with glass infill panels to viewing areas
1.5kN loading 48mm diameter stainless steel balustrade to main staircase
We were appointed to provide more than 90 metres of balustrades and 25 metres of handrails to Burton Rugby Club's new Battlestead Croft site in Burton-on-Trent. 
This project involved supplying and installing balustrades and handrails to the viewing areas and main staircase of the new facility – with two important factors to consider: ensuring we stayed within the client's budget, and selecting the most suitable products to provide an optimum viewing experience for visitors. 
The initial design drawings showed a vertical bar system along the viewing area, but this was not aesthetically pleasing and would have limited the view of the pitch for wheelchair users. We worked closely with the client to find the correct solution – as structural glass would have exceeded the client's budget, we chose a balustrade system with 60×30 rectangular posts that are capable of achieving 3kN loading, with clear toughened glass infill panels. 
We also increased the height of the handrails, both for additional safety and to ensure it would not obscure the view of the pitch for wheelchair users. 
Get in touch to start your balustrade project today!
Whether you're looking for a large-scale commercial project, or small residential up-lift, SMART Balustrades are on hand to help. With an experienced team on board, we can guide you through every step of your project from the initial design right the way through to installation. Don't delay, get in touch with our team today.
Derry Farm House, Shenstone
Private client
Contract value: £15k
Products used: 
0.74kN loading structural glass balustrades to roof terrace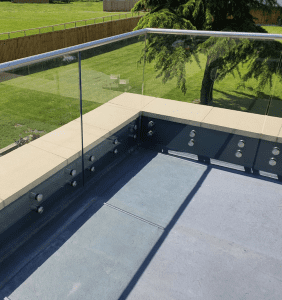 We were appointed on this residential project for a private homeowner in Shenstone, Staffordshire, to provide external structural glass balustrades to the property's roof terrace. 
We worked closely with the client from the start of the project to the end, guiding them through the process and providing our advice and expertise to ensure the desired result was achieved. 
We advised that the balustrade loading weight would need to be 0.74kN – as this was for an external balcony, we chose the correct loading weight to protect the rest of the property and provide a safe and secure balcony feature to the roof terrace. 
Structural glass balustrades were chosen to provide a seamless view out from the terrace and add the perfect finishing touch to a beautiful outdoor space. 
Throughout the project, we maintained communication with the client, updating them on our progress and ensuring that they were delighted with the finished result. 
Get in touch
Do you like what you see? Start your project with SMART Balustrades today by using the form below to get in touch with our expert team.