Modern Industrial Elegance: SMART Balustrades upgrade Autocab's Innovative Manchester Offices
Project Overview
Autocab's new offices in Manchester aimed to integrate contemporary design elements within an industrial architectural framework. The project involved installing balustrades by SMART Balustrades to accentuate the modern aesthetic and provide a secure environment for the office space.
Challenges
The challenge was to seamlessly integrate the balustrades into the modern industrial design, incorporating exposed steelwork and services while maintaining a cohesive and elegant appearance. The selected balustrade system needed to meet safety standards while aligning with the architectural vision.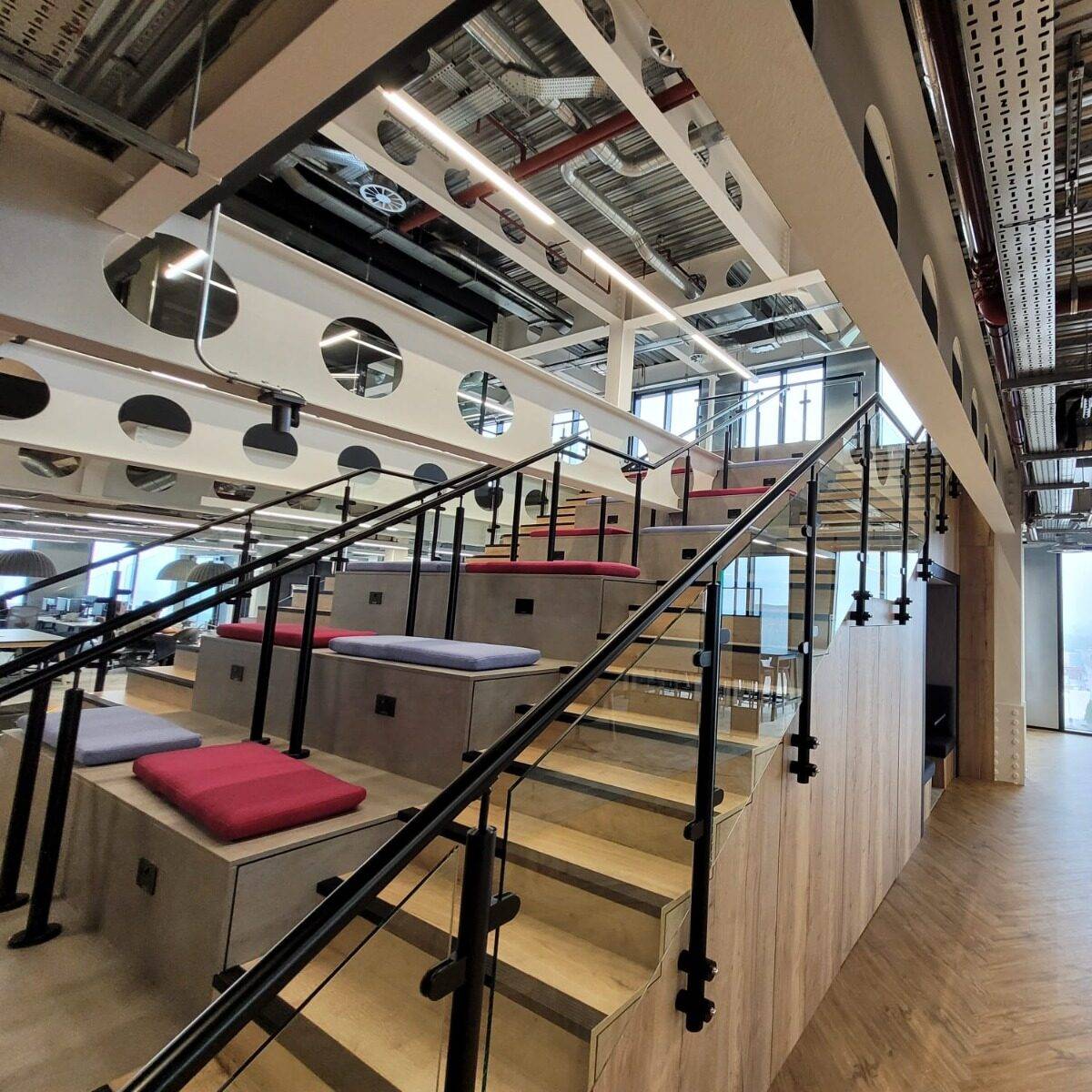 Ready to get started?
If you're ready to get started or looking for some expert advice, reach out to our friendly team. We're happy to discuss any part of your project with you, our team will support you from your initial enquiry right through to aftercare. Alternatively you can get a rough price for your project by using our online balustrade estimation tool.
SMART Balustrades' Solution
SMART Balustrades proposed a solution that involved designing and installing black powder-coated balustrades with 10mm toughened glass infill panels. This choice not only provided the necessary safety features but also harmonized with the industrial aesthetic, incorporating the exposed steelwork and services seamlessly.
Execution and Implementation
Working under office design and build specialists ADT Workplace, SMART Balustrades executed the installation meticulously. The balustrades were carefully integrated into the building's layout, enhancing the safety and aesthetics of the stairs, atriums, and bleacher seating areas.
Client Case Studies
Since launching SMART Balustrades, we've helped over 800 happy customers with project of varying sizes and styles. Feel free to read some of our excellent TrustPilot reviews, or delve deeper to see our consultation to installation process on our case studies page, and see how our expert team could help you.
Results
Installing SMART Balustrades' black powder-coated balustrades with 10mm toughened glass infill panels successfully transformed Autocab's Manchester offices. The modern industrial style was accentuated, and safety standards were met, providing employees and visitors with a secure and visually appealing environment.
Conclusion
The collaboration between SMART Balustrades and ADT Workplace at Autocab's Manchester offices showcased how strategic design and installation of balustrades can enhance the aesthetic appeal of a modern industrial architectural setting. The result was a successful fusion of safety and design, highlighting SMART Balustrades' commitment to both functionality and style.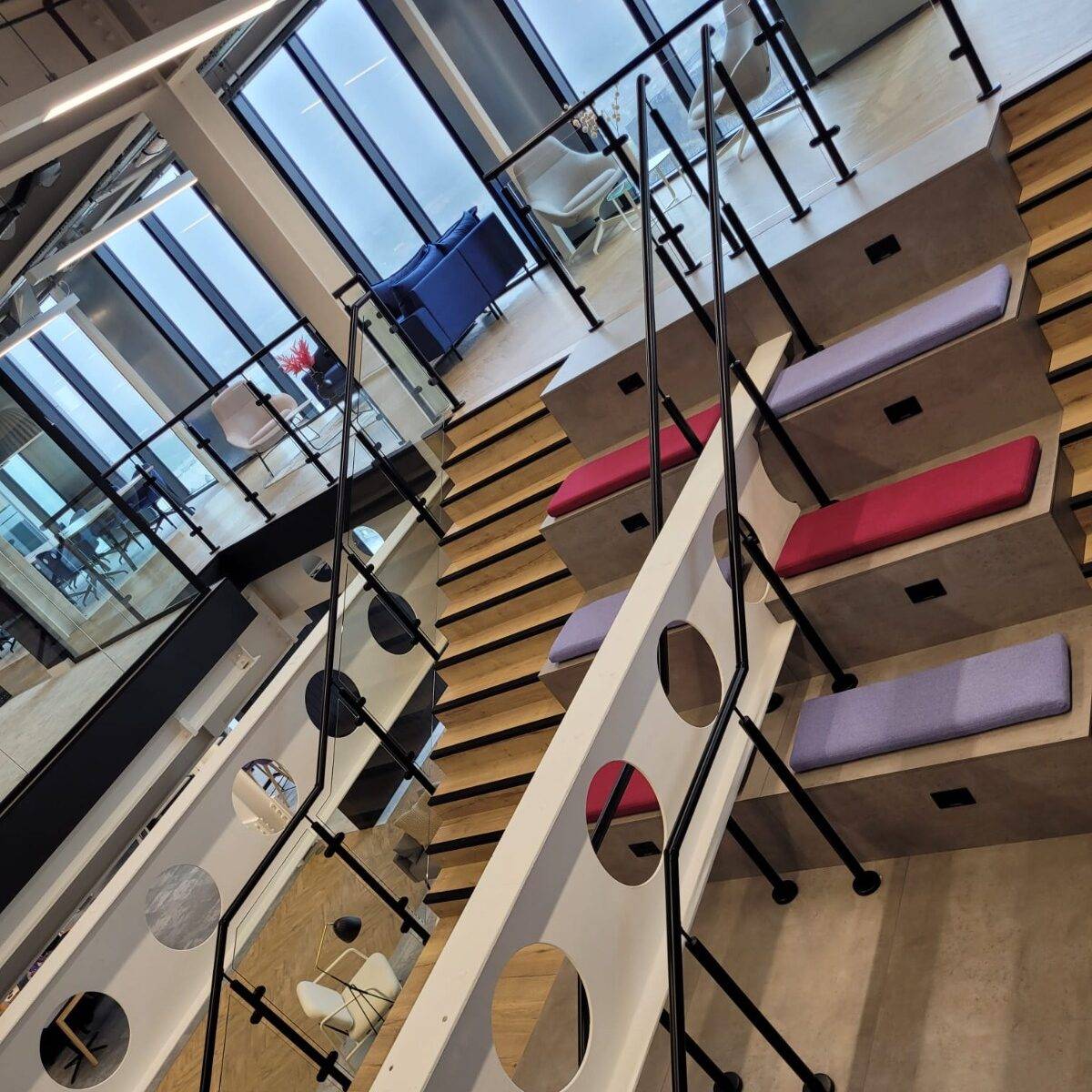 Client Testimonial
ADT Workplace expressed satisfaction with SMART Balustrades' expertise and ability to seamlessly blend the balustrades into the industrial architectural style of the office space. The successful collaboration contributed to creating a cohesive and safe working environment.
Get in touch
Do you like what you see? Start your project with SMART Balustrades today by using the form below to get in touch with our expert team.
Find out more about balustrades on our blog
Sam Read
What are Juliet balconies? A Juliet balcony, often known as a "French balcony" or a "Juliette balcony," is a lovely architectural element that adds a touch of European romance to contemporary living spaces. Unlike traditional
Sam Read
What is a terrace? A terrace is an outdoor living area that's like an extra room for your home. It can be a small balcony, a rooftop space, or a garden patio where you can
Sam Read
Introduction to Balustrades What is a balustrade? Usually topped by a horizontal handrail, a balustrade is a barrier that can be made up of various materials, such as glass and stainless steel. Balustrades enhance the