Supplying Balustrade Parts & Fixings Across the UK
Our Structural Glass and Stainless Steel Balustrade Systems come with a wide variety of fixing details which we are able to supply if you are just looking for parts to complete your project, as small parts make a big impact. Whether you're looking for balcony balustrade fixing details or fixings for staircase balustrades, we offer a huge range to suit many different styles. 
At SMART we offer a complete supply and installation service, but we are more than happy to put our combined decades of experience to good use by advising the best fixing method for your balustrades and handrails if you're looking to install yourself. We pride ourselves on working collaboratively with you to ensure you get the best outcome, within budget, that meets all necessary building regulations and provides you with a wonderful finished balustrade system to complete your space.
Fixing details are essential when looking at balconies, therefore at SMART we ask that you involve us as early as possible to ensure we can get the correct solid grounds. Thousands of pounds can be saved by doing things the SMART way and getting our technical team involved early! Don't hesitate to get in touch with us today if you have a question, or use our instant quote tool to get an immediate price for your requirements.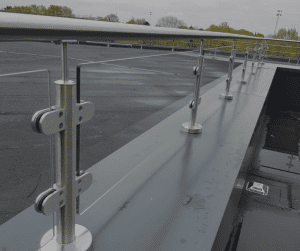 Structural Glass Balustrade Fixings
Our balustrade fixings are designed and tested to provide the ideal fixing method to a wide range of balustrades. For our structural glass balustrades, we can supply different fixing options including our SMART U profile for top or side mounting, our SMART Y profile for side mounting, our SMART F profile for top mounting. We also have our 5010 track which is the optimal solution for installation on insulated flat roofs. Feel free to contact our technical team for advice on fixings.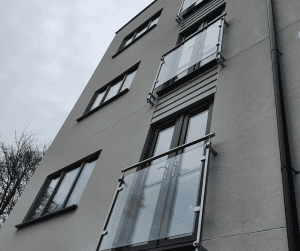 Stainless Steel Balustrade Fixings
For stainless steel balustrades, we can provide circular base plates, used for fixing on top of structures to assure robust and sturdy construction. We also have 2-point side fixings which are used for fitting balustrades into the face of the structure. SMART Stainless Steel sets the bench mark for quality with tubular stainless steel systems. Using only high quality grade 304 or 316 Stainless Steel and tubes/components finished either 320 grit satin brushed or mirror polished finish, it really is a cut above the rest.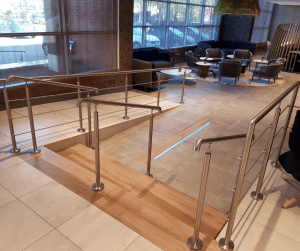 Handrails for Commercial and Domestic Settings
We can supply handrails for use in various applications, be it residential or commercial. Whether you're wanting stainless steel or timber handrails for use on stairs, in hallways, walkways, ramps or anything in between, we offer high quality grade 304 or 316 stainless steel and all necessary components, plus timber options in oak, ash, maple or beech. These can be supplied according to the quantity and shape you require. You can take a look at all of our handrail options here.
A Leading Supplier of Balustrade Fixings and Parts
With a combined experience of over 170 years, we are not just restricted to just installing balustrades, we can also supply the fixings and parts you may need with installation.  Our work is covered by our guarantee, so you can be assured that you're getting the best quality service available. We currently have worked with over 800 satisfied customers, and if you'd like to take a look at more of our work, head over to our gallery.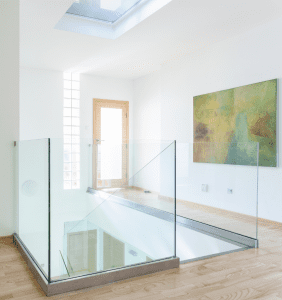 Questions? Get in touch with us!
We're always on hand to answer any queries you may have regarding your balustrade parts and fixing details for your project. From helping with designs all the way through to aftercare, our full-service installation means that we're able to aid you every step of your project. Make sure to get in touch today.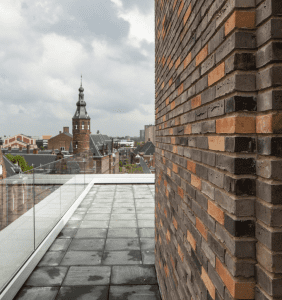 Want us to install your balustrades?
We can! We offer a full supply and installation service, putting our wealth of experience into practice to ensure your balustrade or handrail system is correctly installed and meets all building regulations, so you don't have to worry. From small to large-scale projects including hotels, apartment buildings, car showrooms and care homes, we have the expertise to provide the highest quality balustrades that will enhance your space.
Take a look at our projects
Since SMART Balustrades launched, we have gained a fantastic reputation within the balustrade industry having successfully completed projects for over 800 delighted customers. Take a look at our case studies to see the variety of projects we have done, and feel free to also read some of our excellent TrustPilot reviews!
Get in touch
Do you like what you see? Start your project with SMART Balustrades today by using the form below to get in touch with our expert team.
Find out more about our balustrades and fixings on our blog!
Sam Read
What are Juliet balconies? A Juliet balcony, often known as a "French balcony" or a "Juliette balcony," is a lovely architectural element that adds a touch of European romance to contemporary living spaces. Unlike traditional
Sam Read
What is a terrace? A terrace is an outdoor living area that's like an extra room for your home. It can be a small balcony, a rooftop space, or a garden patio where you can
Sam Read
Introduction to Balustrades What is a balustrade? Usually topped by a horizontal handrail, a balustrade is a barrier that can be made up of various materials, such as glass and stainless steel. Balustrades enhance the