SMART Timber Handrail Installation Across the UK
Handrails are a safe, durable and stylish addition to any home or commercial space. They're able to transform an area with that added security benefit and they can come in many colours, styles and materials. From stainless steel to timber, handrails are able to add that touch of character to your stairs that you've been missing whilst preventing any falling. At SMART, we offer a range of high quality handrails that deliver the practicality, style and durability you're after. Our handrails come in various materials, colours and styles to provide your home just what you need. 
Our timber handrails are beautiful, stylish and provide a more natural feel to the environment they're in. This can soften the look of any industrial space, or bring nature inside a home. Timber works much better indoors, bringing the natural feel to your space in a variety of different wood colours from high quality oak, to ash, maple or beech. All of our timber handrails are available in 42mm and 48mm diameter, and we provide an unrivalled service when installing them into your commercial or residential spaces.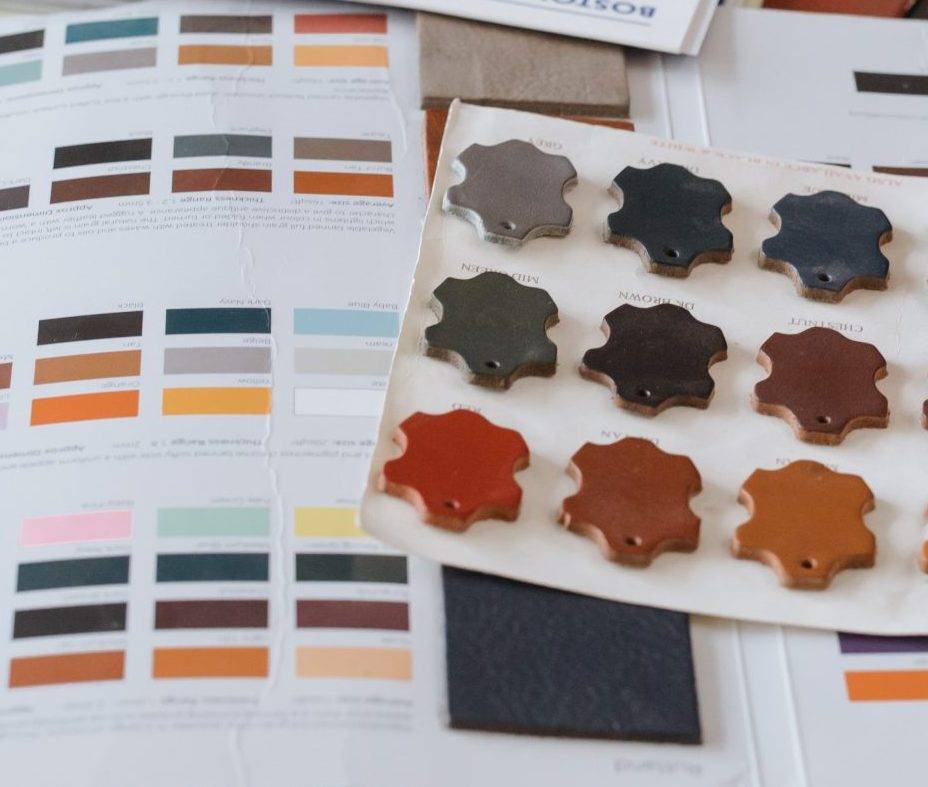 Wood Customisation
These sturdy and stylish circular handrails can come in different woods to provide different looks and natural finishes into your home or commercial space. All made with high quality timber in oak, ash, maple or beech, you can really customise the wood to fit perfectly into your space and bring those outside natural elements inside. These are a great alternative to the classic handrail, and can be altered to your taste whether you're after a more traditional style or modern approach.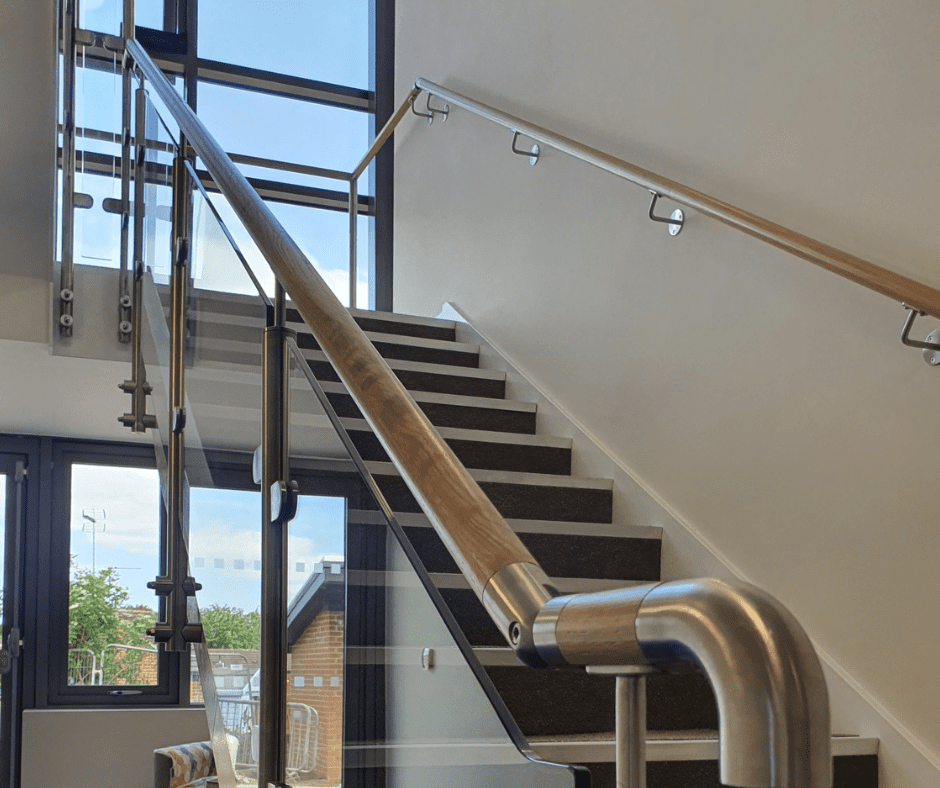 Strong and Durable
Our timber wood handrails have steel core rails built into the wood to provide that additional strength you desire. Made from high quality timber in a variety of woods, these handrails are strong and durable, but are recommended to be only used indoors. Natural timber can be susceptible to expansion and contraction when exposed to British weather.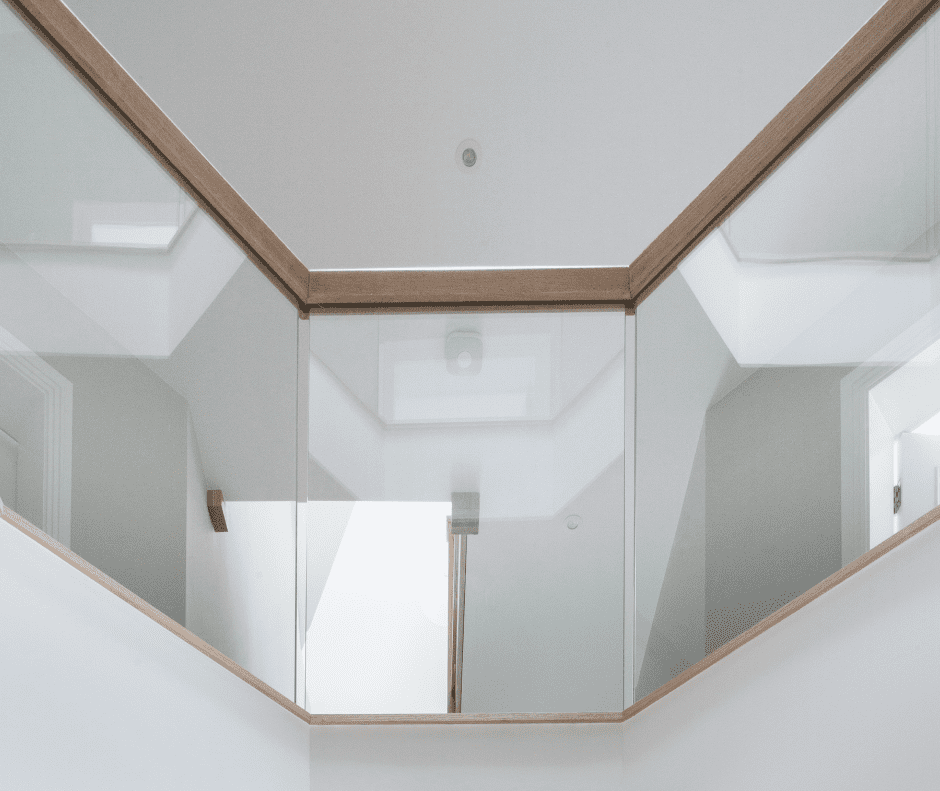 A Timeless Aesthetic
Our timber handrails provide a timeless and aesthetically pleasing look to your space as the classic look of timber is always a pleasing one. Timber is the perfect option if you're looking to create an area with a modern and sophisticated look, but it can also work for more traditional settings as it is a versatile material. The neutral tones of timber allow easy coordination with your existing space, and can bring outdoor elements inside to balance more commercial spaces.
Handrail Installation Service Across the UK
With our combined experience of 170 years in the balustrade industry, our expert team can help you from start to finish of your project whilst providing you with unrivaled quality and great prices. All of our work we do is covered under our guarantee, which will let you rest easy and know that you're going to receive unmatched quality in our products and excellent service. If you would like a second opinion, feel free to read some of our excellent TrustPilot reviews.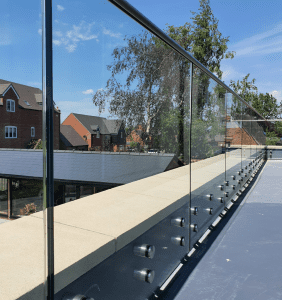 Let our expert team give you some insight!
If you have any questions or require further information, please do not hesitate to contact our expert team, no matter the size of your project – big or small. We are able to provide more than just timber handrails, from glass balustrades to terrace solutions, we can help you with your desired project. We take pride in our excellent rated service which you can see in our TrustPilot reviews, so get in contact today.
Take a look into our previous accomplishments
At SMART we have years of experience in providing exceptional service and we have completed countless jobs for our satisfied customers. Dive into our previous work on our case studies page where we showcase our completed jobs, or browse our gallery for some inspiration on future projects.
Get in touch
Do you like what you see? Start your project with SMART Balustrades today by using the form below to get in touch with our expert team.
Find out more about handrails on our blog!
Sam Read
What are Juliet balconies? A Juliet balcony, often known as a "French balcony" or a "Juliette balcony," is a lovely architectural element that adds a touch of European romance to contemporary living spaces. Unlike traditional
Sam Read
What is a terrace? A terrace is an outdoor living area that's like an extra room for your home. It can be a small balcony, a rooftop space, or a garden patio where you can
Sam Read
Introduction to Balustrades What is a balustrade? Usually topped by a horizontal handrail, a balustrade is a barrier that can be made up of various materials, such as glass and stainless steel. Balustrades enhance the