Commercial and Residential Glass Variations
At SMART we are an excellent rated company that provides unrivalled service with glass balustrades. As industry leaders, we are able to help our clients from the drawing board to project completion, providing the perfect solution for your glass ideas. Whether you're looking to elevate your aesthetics in a space such as a Juliet balcony or add security to your terrace, our glass is able to provide safe, modern and clear balustrades. 
Glass creates the illusion of more space, opening up your house or business area. As glass creates a transparent border, it will not block the light which creates an open, fresh and bright atmosphere. Glass is ideal for modern interiors, but it can also add a touch of sophistication to classic interiors for an attractive juxtaposition in the interior. As glass compliments other materials, it is very versatile and is easy to clean, making it a perfect fit for many spaces. Therefore, it is the perfect material for aesthetics and safety, and you're able to view more of our glass work in our gallery and case studies.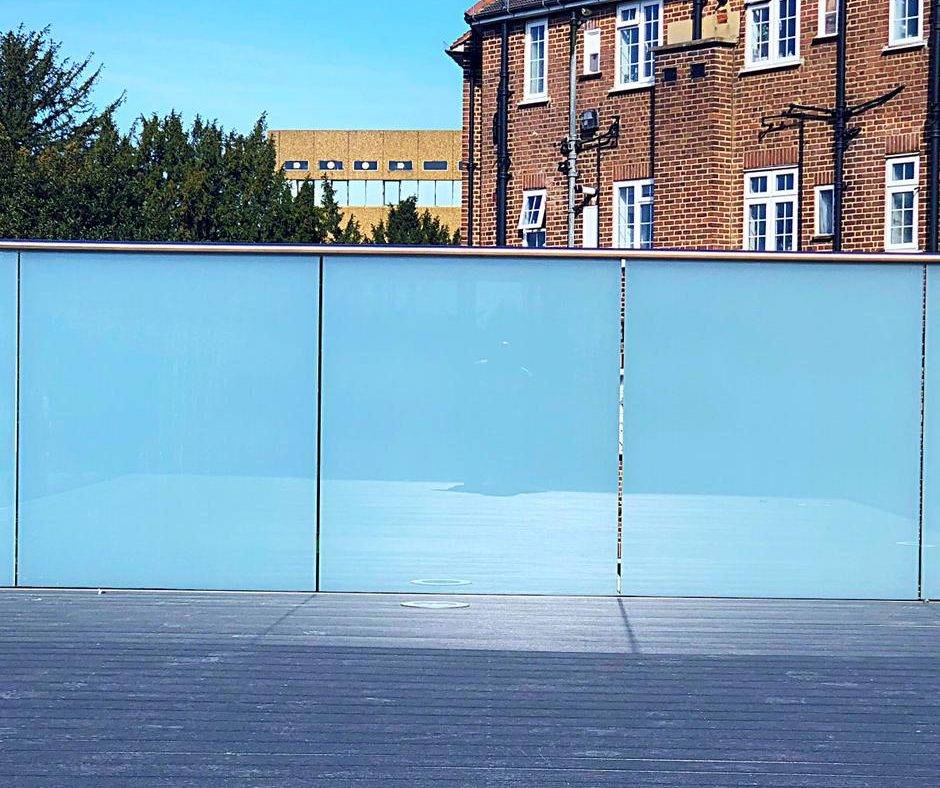 Colour Customisation
We understand how important customisation is to make sure products fit perfectly into your space and reflect your taste. We are able to offer various colour options for our glass, such as the following:
Clear (this is our standard colour)

Low iron (ultra clear)

Grey tinted

Bronze tinted

Green

Blue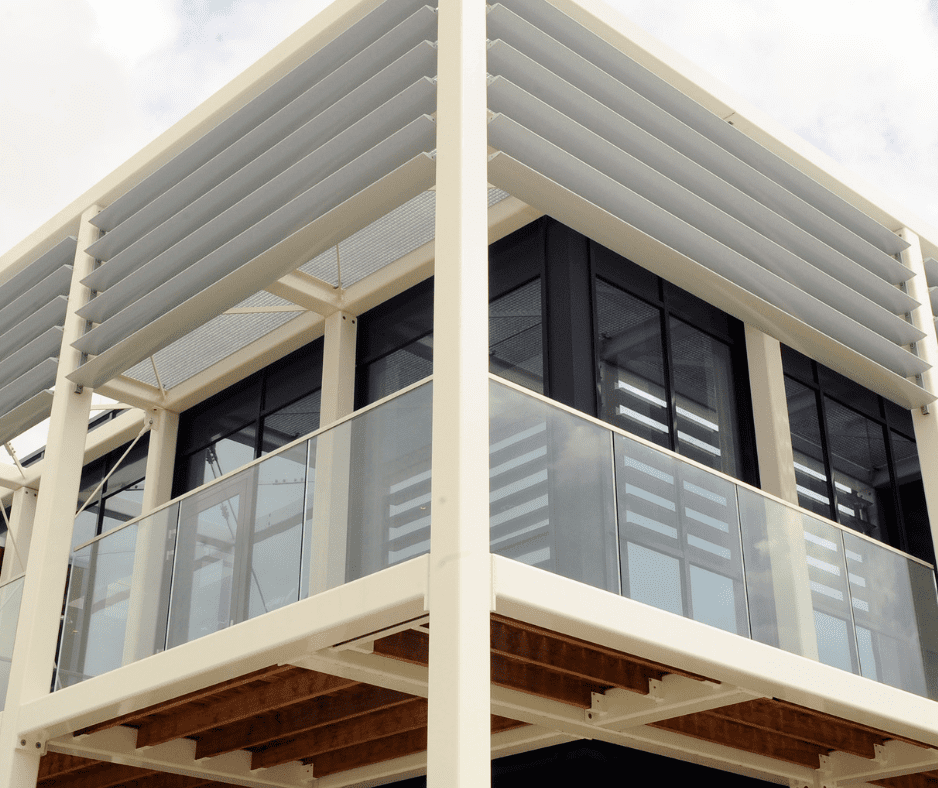 Special Interlayers
We are able to implement a structural interlayer which can improve the structural performance of the glass, such as Sentry Glass. Having special interlayers improves strength and stiffness, which boosts safety to prevent breakage, glass fragments or injury. With increased durability comes increased security, as the special interlayers can withstand much more than standard glass and last longer. This is perfect for someone who wants the modern, clean and sophisticated look of glass with the ease of knowing it is much more durable and secure.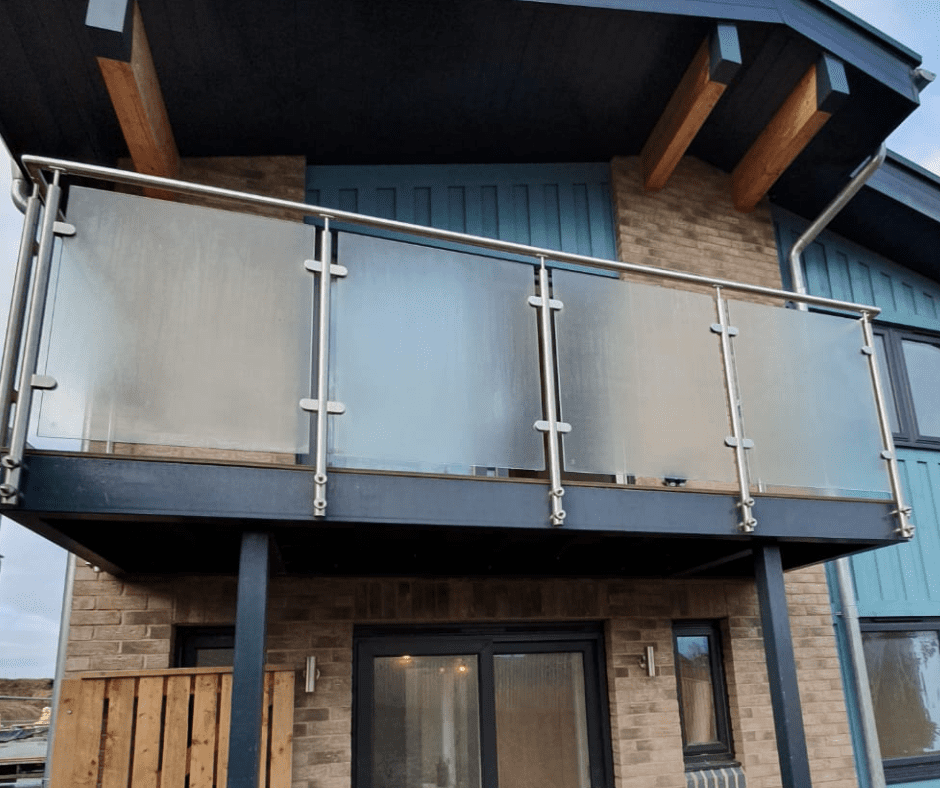 Personalised Printing
Personalisation has become a must in the modern day, which is why we offer various layers of customisation with our glass products. With the option of screen printing, we are able to offer various levels of opaqueness as well as the customisation of patterns and logos. This boosts brand consistency within businesses to keep a strong brand identity. We are also able to provide frosted interlayers which can be coloured or white laminated interlayers. With the utilisation of sandblasting on glass, it opens options of customisation which acts like an airbrush.
Glass Balustrade Installation across the UK
At SMART Balustrades our expert team have over 170 years combined experience in the balustrade industry, meaning using us is the SMART choice. We service the entire UK, specialising in structural glass installation and with our various SMART systems and fittings options we have a solution to suit everyone. Our balustrades can be used for staircases, balconies, terraces, gardens and much more. All our work is covered under our guarantee, meaning quality is assured throughout all our projects. Want to see some of our installation work? Head over to our gallery or take a look at some of our case studies to see our project process from start to finish.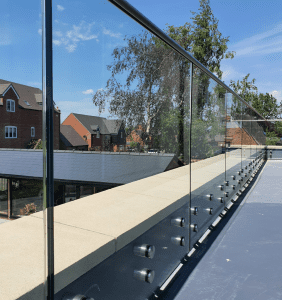 Require advice from an expert team?
Our expert team is always on hand to help and guide our customer, so if you require more information or have any questions you can get in touch. No matter whether your project is big or small, we are able to provide you with all sorts of glass variations to place on your balconies or staircases. We are an excellent rated company providing quality services as seen in our TrustPilot reviews.
Take a look at our previous work!
Throughout our years of providing exceptional service we have completed countless jobs for our satisfied customers. You're able to take a look at our work on our case studies page where we showcase completed jobs. Whether you're looking for someone to complete your dream job or just some inspiration, you can look at our gallery which is full of images.
Get in touch
Do you like what you see? Start your project with SMART Balustrades today by using the form below to get in touch with our expert team.
Find out more about glass variations on our blog!
Sam Read
What are Juliet balconies? A Juliet balcony, often known as a "French balcony" or a "Juliette balcony," is a lovely architectural element that adds a touch of European romance to contemporary living spaces. Unlike traditional
Sam Read
What is a terrace? A terrace is an outdoor living area that's like an extra room for your home. It can be a small balcony, a rooftop space, or a garden patio where you can
Sam Read
Introduction to Balustrades What is a balustrade? Usually topped by a horizontal handrail, a balustrade is a barrier that can be made up of various materials, such as glass and stainless steel. Balustrades enhance the