The UK's Leading Stainless Steel Balustrade Installers
Here at SMART Balustrades we offer a high-quality range of balustrade systems, including glass, stainless steel, frameless and timber. Suitable for indoor and outdoor, commercial or domestic use, our stainless steel balustrades are designed to endure the elements and require minimal maintenance, making them the perfect investment for any property. Our stainless steel balustrades are available with two main fixings, circular base plates and 2-point side fixings. With a wealth of experience, SMART Balustrades assure you an unrivalled level of service with unbeatable prices.
Our extremely durable stainless steel balustrades are the perfect choice for any property. These affordable balustrades provide a versatile design and no matter their location, you will not have to worry about the stress of maintenance as stainless steel balustrades require very little effort to maintain. Offering various fittings, frames and colours, we can alter our stainless steel designs to your taste, whether you want a traditional look or a modern balustrade.
Not only do we pride ourselves on unmatched quality, we also administer safety checks during and after installation provided by our experienced installation specialists, ensuring they comply with all the necessary building regulations.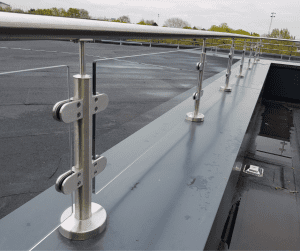 Stainless Steel Balustrade Fixings
Our stainless steel balustrades have two main fixings, the first being the circular base plates. These are used for fixing on top of structures to assure safe and sturdy construction. Secondly, we have the 2-point side fixings, which are used for fitting balustrades into the face of the structure.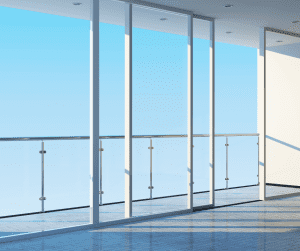 Colour Customisation
Have you been browsing balustrade ideas but wanted to custom them to fit your taste? Well, there is no need to worry about the stainless steel not complimenting your space, with our powder coat we can customise the stainless steel to any colour desired.
Require more insight?
SMART Balustrades has accumulated an experienced, friendly and hands-on team that are more than happy to help with any queries and questions you may have. Feel free to get in touch today, from insight into manufacturing, installation, designs, consultation, site surveys or aftercare, we are here to guide you through your project. Make sure to head over to our gallery to view our internal and external balustrades, or have a read of our case studies to experience our projects from beginning to end.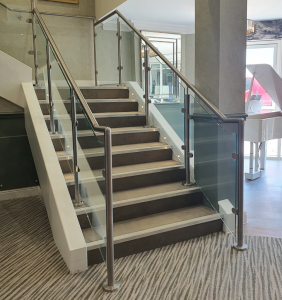 Want to generate a quote?
If you require a quote for an installation, feel free to use our smart 3D balustrade planer, an interactive tool to generate an instant quote and allow you to see your options of style, shape, dimensions, colour, thickness and type. However, if you are looking to browse our range of balustrade parts for our unrivalled rates on products which include stainless steel, structural glass and balustrade fittings, we're happy to help with any enquiries. Don't forget to check any regulations before launching your project, and acquire the necessary equipment and safety gear for home projects. Our blog is just a click away for more useful guides and tips, alternatively drop us a message here.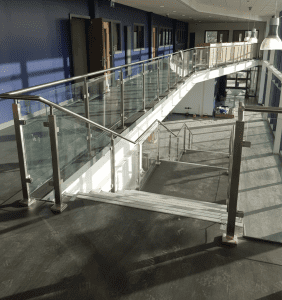 Looking for stainless steel balustrade parts only?
We are still able to help if you're just looking for stainless steel balustrade parts without installation. We host an abundance of products, available for both large and small projects. Feel free to drop us a message. If you require a quote, you can utilize our smart 3D balustrade planner, which is an interactive tool to generate an instant quote. You can browse your options of shape, dimensions, style, colour, thickness and type. Please make sure to check any regulations before launching your project and acquire the necessary safety gear and equipment for any home projects. 
Have a look at our happy balustrade clients!
Not only are we extremely proud of providing such a polished service, so are our clients. Meet some of our pleased clients and get a glimpse into how we've achieved success in their projects. You can explore further on our case study page, and witness how our expertise could benefit you and your project, or have a read of our exceptional TrustPilot reviews.
Get in touch
Do you like what you see? Start your project with SMART Balustrades today by using the form below to get in touch with our expert team.
Stainless Steel Balustrade FAQs
Find out more about stainless steel balustrades on our blog
Sam Read
What are Juliet balconies? A Juliet balcony, often known as a "French balcony" or a "Juliette balcony," is a lovely architectural element that adds a touch of European romance to contemporary living spaces. Unlike traditional
Sam Read
What is a terrace? A terrace is an outdoor living area that's like an extra room for your home. It can be a small balcony, a rooftop space, or a garden patio where you can
Sam Read
Introduction to Balustrades What is a balustrade? Usually topped by a horizontal handrail, a balustrade is a barrier that can be made up of various materials, such as glass and stainless steel. Balustrades enhance the