Our SMART Balustrade options
Are you looking for balustrades for your commercial or residential properties? SMART Balustrades are here to help. From the initial design through to installation, our experienced team is on hand to find a practical and cost-effective solution for all our customers. Whether you're looking for indoor or outdoor balustrades, we have many styles to choose from including structural glass, stainless steel, timber and frameless balustrade options. We also supply a wide range of fittings to make sure you can achieve your desired look for your balustrades, as well as providing the most practical and long lasting solution. 
Our high quality balustrade solutions are great for balconies and terraces – using structural glass allows a lot more natural light to flow through into your property. We also have a lot of experience in supplying and fitting staircase balustrades, with many customers wanting to modernise their staircases with this more unique option. We have various styles of handrails available to complete your staircase, and along with glass (available in multiple thicknesses to suit) we can create custom balustrades to suit individual buildings' needs and wants. 
As well as being eye-catching and modern, all of our balustrades conform to all industry standards and with our wide range of base tracks and multiple glass thicknesses we can supply and install custom balustrades that can support 0.74kN, 1.5kN and 3kN loadings. Safety is essential to us, with balustrades often being used to secure areas it's important to use top quality suppliers and experienced installers, such as ourselves, to keep your customers or your family safe.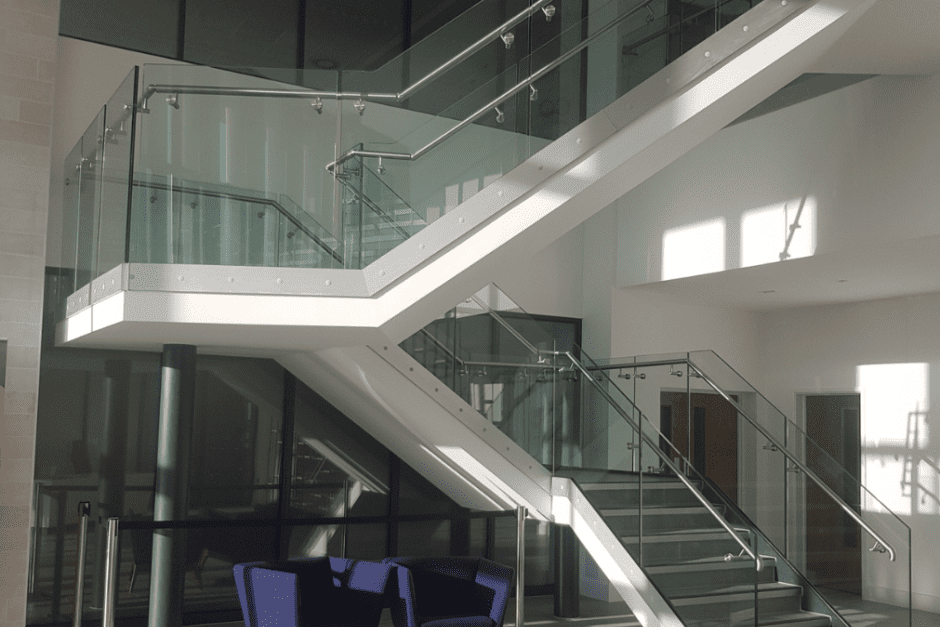 Commercial Balustrades
Balustrades are a great solution for commercial buildings such as offices, hotels, stadiums, colleges and apartment complexes. With a huge range of materials and styles to choose from you're in safe hands. If you're looking for balustrade installation in one of your commercial properties, take a look at our commercial balustrade offering.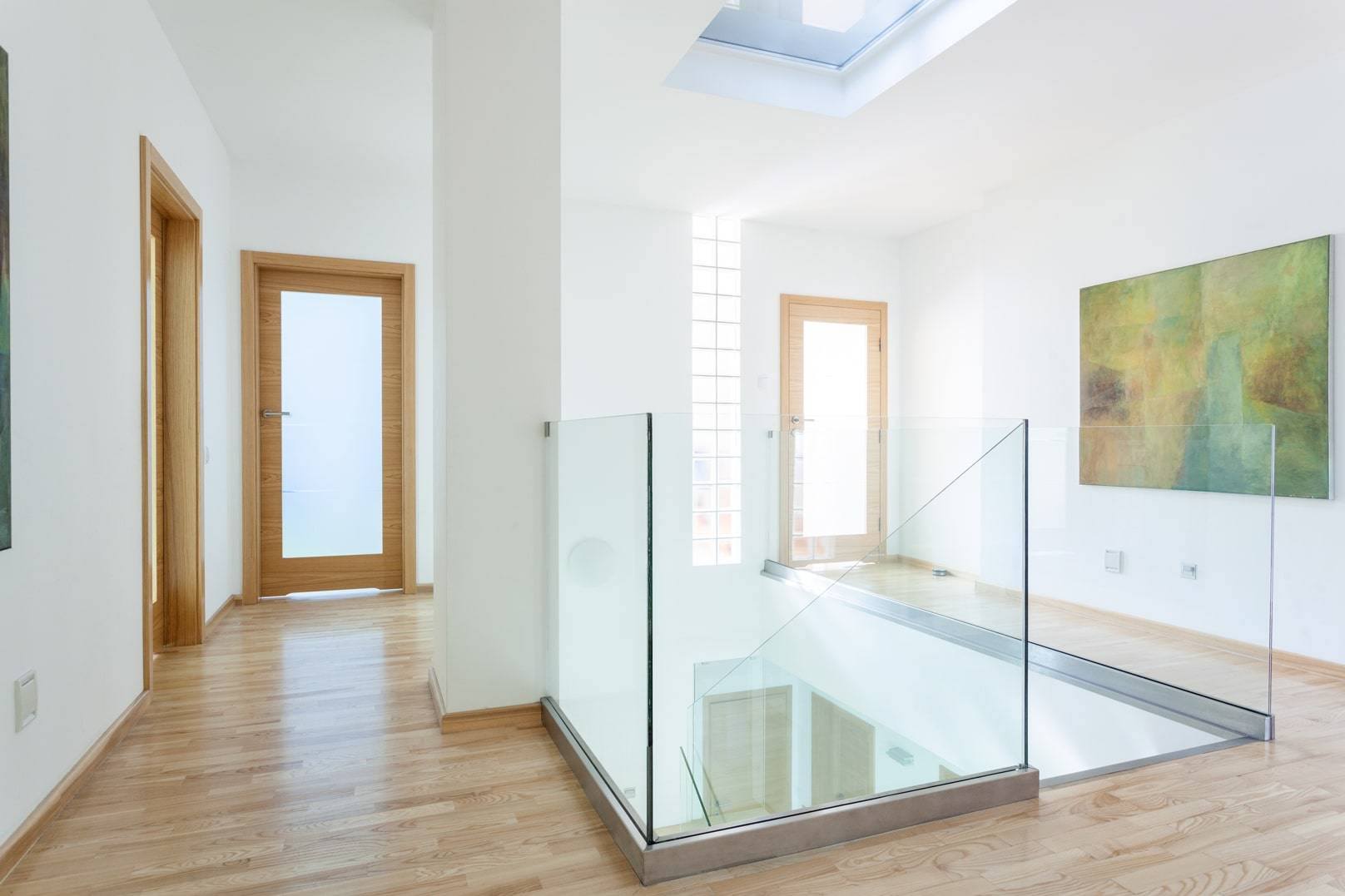 Residential Balustrades
If you're thinking about getting balustrades installed in your home then make the SMART choice. With our huge range of fully customisable balustrades and heaps of experience, we can transform your staircase, balcony, terrace or outdoor space with stunning, modern balustrades. Find out more about our residential offering below.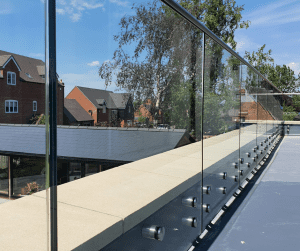 Glass Balustrades
Our Glass Balustrades consist of made-to-measure structural glass panels and can be completed with a wide-choice of frames and fittings. Whether you're looking to modernise your staircase, or brighten up your outdoor space without more traditional panels which tend to block out a lot of natural light, our Glass Balustrades look great in all settings.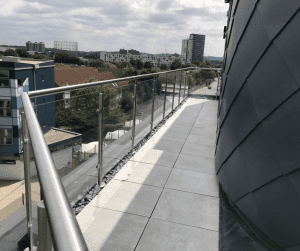 Steel Balustrades
Our rust-free Stainless Steel Balustrades are perfect for both indoor and outdoor use. This robust solution requires minimal upkeep, and as such this long-lasting solution is a great investment for both commercial and residential properties. With various fittings, colours and frames available, we can design and install the perfect Stainless Steel Balustrade for you.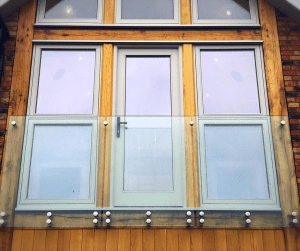 Frameless Glass Balustrades
Growing in popularity, Seamless Glass Balustrades are uniquely designed to offer an unbroken and contemporary safety barrier that doesn't cause any obstruction to surrounding views. Commonly used on balconies and terraces, frameless balustrades are weather-proof and feature specially designed glass panels that are custom made for each individual customer.
Balustrade Installation
If you're looking for a full-service balustrade solution then our experienced team is happy to help. From the initial site survey to discussing design options, we like to find the perfect balustrade option for each of our individual clients. Ensuring you have an experienced installer is essential for Balustrades due to the large amount of safety regulations that you need to conform to. During our many years of business, we've worked on lots of projects with many happy customers to show for it. Whether you're looking for a small residential project or large-scale hotel, airport or golf course fit-out, our highly qualified team of installers are available to work on projects across the UK. Complete with a warranty, you know you're in safe hands with us.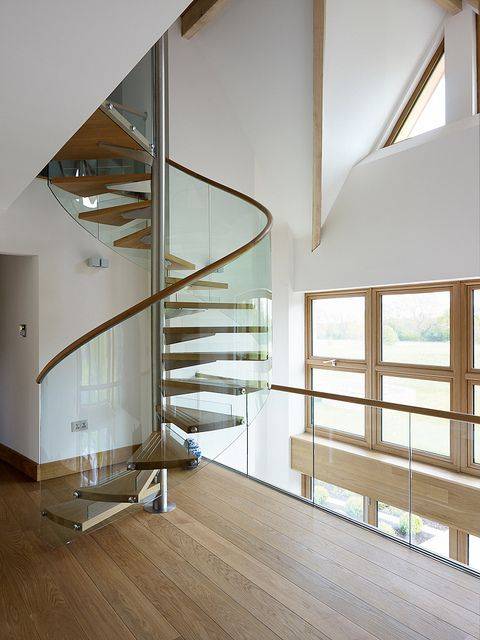 Ready to get started?
If you're ready to get started or looking for some expert advice, reach out to our friendly team. We're happy to discuss any part of your project with you, our team will support you from your initial enquiry right through to aftercare. Alternatively you can get a rough price for your project by using our online balustrade estimation tool.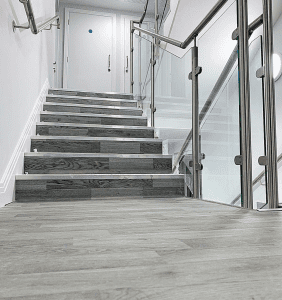 Balustrade Products
If you're just looking for balustrade parts, we can provide fantastic rates on many of our balustrading products. Head to our Smart Builder tool for an instant supply-only quote today.  If you're looking to take on a DIY Balustrade project then don't forget to check out our blog for handy guides and tips as well as ensuring you've checked all the regulations under your local authority. Don't be shy to get in touch should you need any added assistance.
Client Case Studies
Since launching SMART Balustrades, we've helped over 800 happy customers with project of varying sizes and styles. Feel free to read some of our excellent TrustPilot reviews, or delve deeper to see our consultation to installation process on our case studies page, and see how our expert team could help you.
Get in touch
Do you like what you see? Start your project with SMART Balustrades today by using the form below to get in touch with our expert team.
Find out more about balustrades on our blog
Sam Read
What are Juliet balconies? A Juliet balcony, often known as a "French balcony" or a "Juliette balcony," is a lovely architectural element that adds a touch of European romance to contemporary living spaces. Unlike traditional
Sam Read
What is a terrace? A terrace is an outdoor living area that's like an extra room for your home. It can be a small balcony, a rooftop space, or a garden patio where you can
Sam Read
Introduction to Balustrades What is a balustrade? Usually topped by a horizontal handrail, a balustrade is a barrier that can be made up of various materials, such as glass and stainless steel. Balustrades enhance the