Commercial & Residential Timber Balustrade Solutions
If you're looking to add a modern and clean look to your home, timber balustrades are the perfect addition to elevate your design and add originality as different species of tree produce different looks. Alternatively, they are the perfect choice for commercial buildings, delivering a sophisticated look to your business. Wood is the perfect choice to add an organic feel to your building, allowing commercial spaces to feel more natural and blend in with the landscape. Our timber can be paired with glass panels, which allow natural light to flow throughout your space and add a contemporary element to your stairs, balcony or landing. We can also offer powder coated perforated steel infill panels which are very durable and easy to clean.
At SMART we offer an unrivaled level of service at great prices, we do so whilst we administer the best safety checks during and after installation. Our experienced installation specialists will make sure that you have the best experience throughout your project, ensuring they comply with all the necessary building regulations.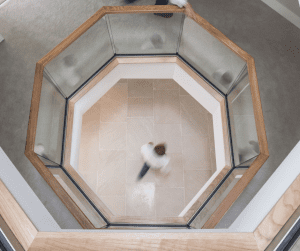 Timber Balustrade Wood Options
At SMART Balustrades we mainly use oak for timber handrails as this wood is a very good choice for projects, being strong, durable and resisting everyday wear and tear whilst offering the natural and organic beauty into any space. However, we are also able to offer ash, maple and beech wood. All of which are popular, pleasing and durable options. This comforting and warm aesthetic of timber will add a natural and decorative touch to your space.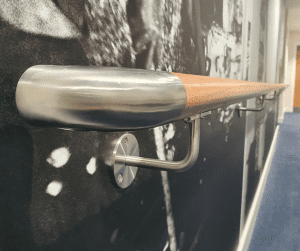 Timber Balustrades Panel Options
Our timber balustrades are usually offered with glass or steel infill panels. Glass is the most popular and cost effective, providing a contemporary look whilst letting natural light shine through to really open up and elevate your space. Our powder coated perforated steel infill panels are another option which are very durable and easy to clean, making them a great investment.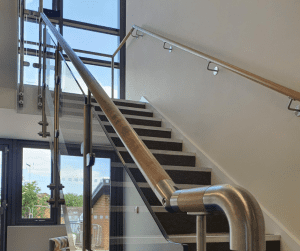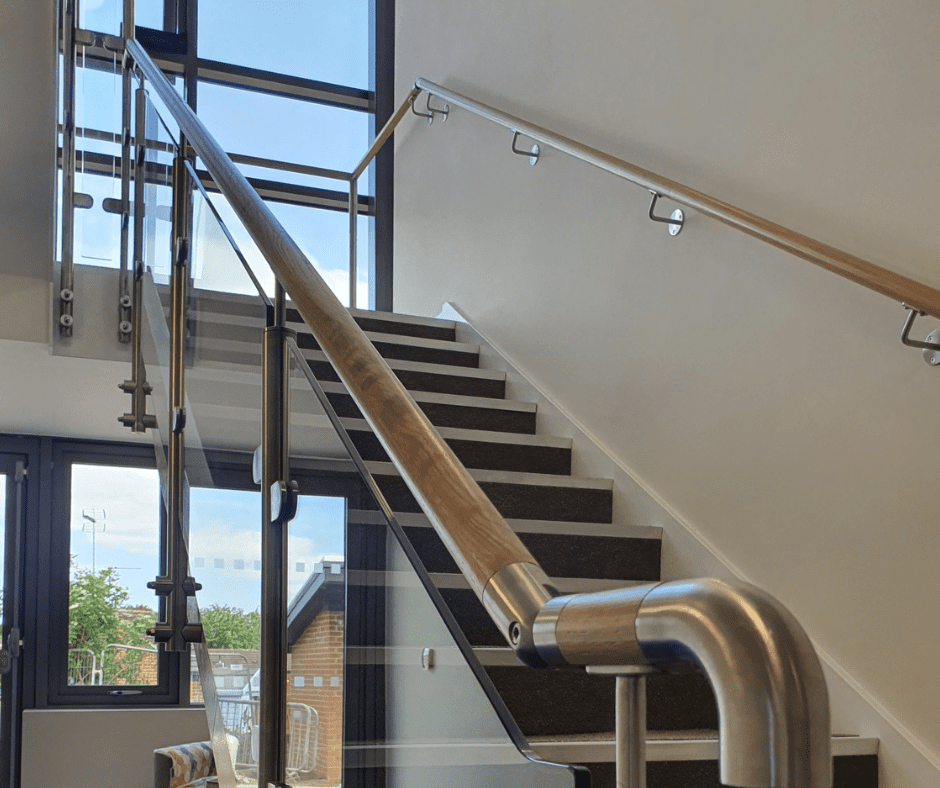 The Best Spaces For Timber Balustrades
We recommend using timber internally, which is what we offer as it is the perfect option for stairs and landings, being highly versatile as a beautiful wood. Our timber will add the perfect aesthetic to your home as a natural material, with different species of tree producing timber of different colours, textures and functional qualities. Our timber is also perfect for commercial spaces, with wood being universally popular and it has the benefit of helping your structure to blend in with the landscape, especially in rural areas.
Balustrade Installation Across England and Wales
We supply and install timber balustrades in both residential and commercial properties throughout England and Wales. With a combined experience of 170 years in the balustrade industry, your project will be in safe hands with us. With more than 800 happy customers to date, we're proud of the quality products and service we can offer – and we're more than happy to answer any questions you may have and guide you through the process before getting started on a project. There are usually a large number of safety regulations that you will need to conform to, which is why having our experienced installers is a must, which our happy customers all over the UK will agree to. We are able to install our balustrades for staircases, balconies, patios, terraces and much more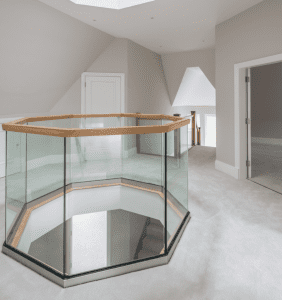 Need an experts opinion?
We're happy to guide you through every step of your project, providing you with professional insight and ensuring you get your desired result. At SMART Balustrades we have accumulated an experienced team which is able to help with any queries you have, whether it be about manufacturing, installation, consultation, site surveys, designs or aftercare. Our gallery is available if you would like a more visual dive into our work, or have a read of our blog!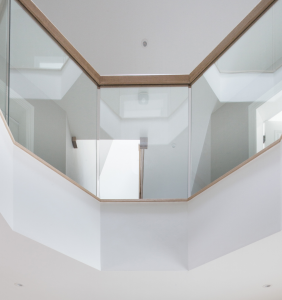 Looking for balustrade parts only?
We are still able to help if you're just looking for balustrade parts without installation. We host an abundance of products, available for both large and small projects. Feel free to drop us a message. If you require a quote, you utilize our smart 3D balustrade planner, which is an interactive tool to generate an instant quote. You can browse your options of shape, dimensions, style, colour, thickness and type. Please make sure to check any regulations before launching your project and acquire the necessary safety gear and equipment for any home projects. 
Take a look at some of our satisfied balustrade clients!
No need to just take our word for it – meet some of our satisfied clients and see how we have successfully helped with their projects. We are very proud of providing such a polished and professional service, which you can explore further on our case study page. Don't forget to also have a read of some of our excellent TrustPilot reviews!
Get in touch
Do you like what you see? Start your project with SMART Balustrades today by using the form below to get in touch with our expert team.
Find out more about timber balustrades on our blog
Sam Read
What are Juliet balconies? A Juliet balcony, often known as a "French balcony" or a "Juliette balcony," is a lovely architectural element that adds a touch of European romance to contemporary living spaces. Unlike traditional
Sam Read
What is a terrace? A terrace is an outdoor living area that's like an extra room for your home. It can be a small balcony, a rooftop space, or a garden patio where you can
Sam Read
Introduction to Balustrades What is a balustrade? Usually topped by a horizontal handrail, a balustrade is a barrier that can be made up of various materials, such as glass and stainless steel. Balustrades enhance the