Glass Terrace Balustrade Solutions for Domestic and Commercial spaces
Whether you're looking to create a ground floor or roof terrace, patio, external walkway or ramp on your residential or commercial property, we can help with our range of balustrade systems including glass, stainless steel, frameless and timber. All of our glass terraces can also be customised to achieve the look you're after with a variety of fixing and finishing options available.
Our SMART Stainless Steel and Structural Glass Balustrade Systems offer virtually uninterrupted views, allow maximum natural light to pass through and have less vertical and horizontal intrusions, creating a beautiful outdoor feature to any property.
Our team of experienced designers and installers will work with you through every step of the project to help you create your ideal terrace or patio. We can advise on every aspect from planning permission, should you require it, through to aftercare, and we will ensure that safety regulations are strictly adhered to so that you don't have to worry.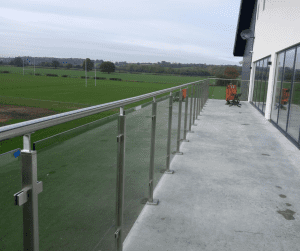 Handrails for Terrace Balustrades
At SMART we offer a wide range of handrails in different sizes and profiles. Frameless balustrades without a handrail are also an excellent option for glass terraces, to ensure virtually unbroken views out onto the surrounding area and create an 'infinity balcony' experience.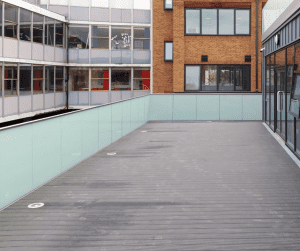 Glass Options for Terraces
Regardless of where or how you would like to use your glass terrace, at SMART we offer a variety of styles to choose from. Depending on the application, we will advise you on the most suitable options when it comes to glass – we can provide toughened, structural or plain glass balustrades in a selection of finishes. Our most popular option is clear glass, but we also offer "ultra-clear glass", which offers pristine clarity thanks to its low-iron content. We also offer frosted glass for added privacy, as well as grey tinted, bronze tinted, blue and green glass.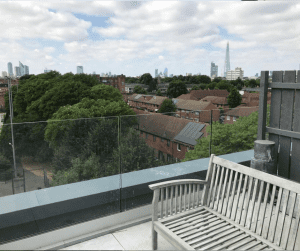 The Benefits of Having a Terrace
A glass terrace can expand your living space, no matter what you do with it, it'll make your home or commercial property feel bigger and elevate the look. Not only can it be a nice place to hangout and relax, but you can also use a terrace for productivity such as gardening or yoga. Our glass terraces are also very safe, using our reinforced structural glass, it allows for young children and pets to explore too.
The UK's Leading Glass Terrace Installation Service
We supply and install balustrades in both residential and commercial properties, completing excellent jobs in various sectors. Our expert team has a combined experience of 170 years in the balustrade industry, so you can feel confident and safe in our hands. All of our work is covered under our guarantee, giving you peace of mind that you're going to receive unrivaled quality in our products and services, and if you want a second opinion you can visit our TrustPilot reviews!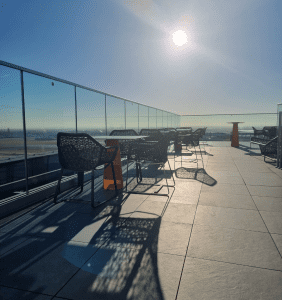 Require an expert's opinion?
We're available to talk you through every step of your project, refining your requirements and ensuring you get the exact result that you're looking for. From helping with designs all the way through to aftercare, we're with you every step of the way. If you'd like to get an idea of our previous work, we have a case studies page available, or just browse our gallery.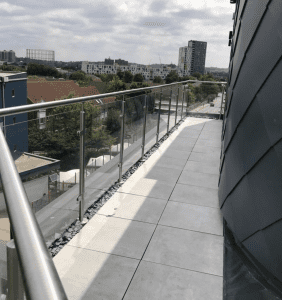 Glass Terrace Balustrade Parts
If it is just balustrade parts for your terrace you're looking for, without installation, we are still able to help you. We have a variety of products we can offer that are perfect for any kind of project, no matter the size. From structural glass available in many styles and thicknesses, fittings and handrails, we're on hand to provide the perfect parts for you project. Just make sure to get in touch with our team for further information.
Gain some insight into our satisfied terrace clients!
Hundreds of completed projects for happy customers has allowed us to perfect our work ethic and service, providing unmatched installations, making us the SMART choice for your balustrade project. We are proud of our fantastic reputation, with our process being simple and effective, causing our projects to be top quality. Whether it is our case studies page, our gallery or our TrustPilot reviews, we are sure you will be happy with previous work.
Get in touch
Do you like what you see? Start your project with SMART Balustrades today by using the form below to get in touch with our expert team.
Find out more about terraces on our blog!
Sam Read
What are Juliet balconies? A Juliet balcony, often known as a "French balcony" or a "Juliette balcony," is a lovely architectural element that adds a touch of European romance to contemporary living spaces. Unlike traditional
Sam Read
What is a terrace? A terrace is an outdoor living area that's like an extra room for your home. It can be a small balcony, a rooftop space, or a garden patio where you can
Sam Read
Introduction to Balustrades What is a balustrade? Usually topped by a horizontal handrail, a balustrade is a barrier that can be made up of various materials, such as glass and stainless steel. Balustrades enhance the