At SMART Balustrades we pride ourselves in providing top quality balustrade and balcony systems to clients in both commercial and residential sectors. Since we started trading in 2017 we have expanded into a team of ten people and are currently aiming for a growth of 35% year on year. Our staff are all highly experienced and fully qualified, meaning when you book in a job with us you're in safe hands.
The New Recruits – Alexander Duerden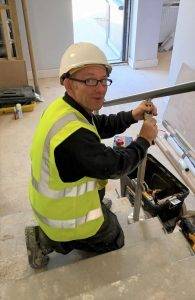 Alexander has joined the SMART Balustrades team as a site installation engineer and possesses a strong background in steel installation and carpentry. With a Gold Construction Skills Certification Scheme (CSCS) card and a Level 3 NVQ in Occupational Work Supervision, Alexander's responsibilities in his new role will include working on site to carry out the installation of the company's handrail, balustrade and balcony systems. 
Talking to Alexander about his new role, he said: "I'm very pleased to have joined the SMART Balustrades team – as a growing company with a reputation as a leader in the balustrade industry, I'm looking forward to implementing my skills and experience to continue delivering high quality installations to commercial and residential clients."
We're excited to welcome Alexander and all his talents to the SMART Balustrades team.
The New Recruits – Mick Cox

Mick has joined our team as a production operative and will be responsible for the assembly, packaging and dispatch of orders. With more than 12 years' experience as a warehouse supervisor in his previous role, Mick is well equipped to handle the processing of a large number of orders to both the company's growing commercial and residential sector clients. He is also now assisting on site with installation work, and going forward his time will be split between the factory and site works. 
Talking to Mick about his new role, he said: "SMART Balustrades is an ambitious company with big plans for the future and I'm delighted to be joining the team at such an exciting time. The team were incredibly welcoming and I'm looking forward to managing the company's growing order book and continuing to deliver the excellent customer service that SMART Balustrades is known for."
Construction Line
As well as expanding our expert team, we've been busy in the office and have recently secured a Construction Line Gold membership – a platform designed to verify that contractors have met PAS 91 and Common Assessment Standard requirements, creating a validated pool of high-quality suppliers and instilling confidence in buyers looking to procure various construction contracts. Essentially, this is just another accreditation that helps our customers recognise the great quality products that we provide. 
Speaking to Manager Director David Hough about the new recruits and accreditation, he said: "As well as the great news of Alexander and Mick joining us, we are pleased to have secured Gold membership with Construction Line which is another positive step for the business – having met all the necessary requirements and proven our credentials. The platform will open up new opportunities for the company, placing us in front of buyers across various sectors looking to use our specialist products for their next project."
Keep up to date with our blogs for the latest company and industry news, or get in touch to find out more about our products and services.