Modern and Safe Staircase Balustrade Solutions
Our SMART Balustrades are perfect for use on a staircase, helping to transform it into a beautiful feature in any residential or commercial setting. We have multiple balustrade systems on offer, ranging from structural glass, stainless steel, timber and frameless styles that all conform to industry standards.
We have a highly experienced team that are on hand to guide you through your project from start to finish – we will advise on the best balustrade system for your staircase that adheres to all necessary building regulations whilst making sure it is completely safe. We are able to customise and refine your chosen balustrade from the height and material to the colour and finish, to make sure we achieve the desired result you're looking for. We can assess your requirements for your staircase to suggest the best designs, mounting options and finishes to ensure your staircase is safe, secure and has achieved the desired look.
At SMART, we have acquired a lot of experience in supplying and fitting staircase balustrades and we have successfully worked with an abundance of customers in care homes, hotels, sports venues, apartment buildings and private homes. No project is too large or too small for our team who are committed to providing the best customer service at every stage of your project.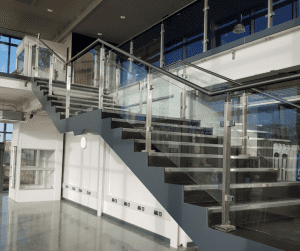 Staircase Balustrade Options
Our range of SMART staircase balustrades include rust-resistant stainless steel, timber and frameless glass balustrades. We offer structural glass in multiple thicknesses and colours to suit your needs, as well as high quality handrail and post options. Our seamless glass balustrades can also be used for staircases to host an ultra-modern look, with no intrusions – this is a great option if you're looking to create a 'floating staircase'.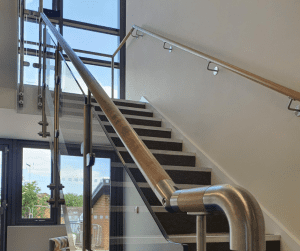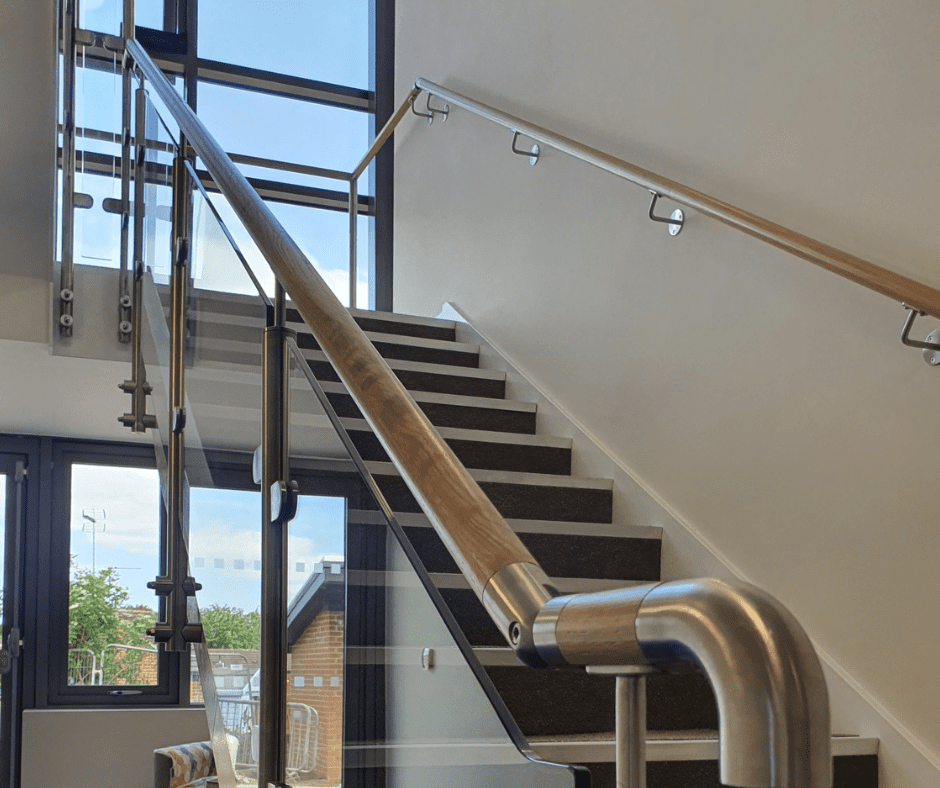 Staircase Balustrade Handrails
We have a wide range of staircase handrails to choose from, including stainless steel handrails and timber handrails available in various woods, such as oak ash maple and beech. We will be delighted to provide our expertise to refine your requirements and correctly install your staircase handrails, ensuring they conform to all necessary building regulations and add that all-important finishing touch to your staircase.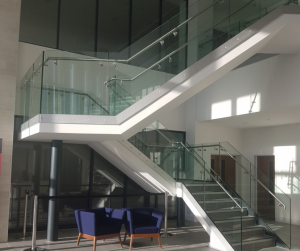 Benefits of Glass Balustrade Staircases
No matter what the material of the balustrade is, they will add aesthetic value to your stairs. Glass balustrades add a sophisticated touch of elegance and allow more light to your space, giving the illusion of a bigger area. Stainless steel is super easy to clean and durable, making them a perfect investment. Not only do they elevate the look of your stairs, they add strength and safety.
Staircase Balustrade Installation Across the UK
At SMART Balustrades, we are proud of our combined experience of 170 years in the balustrade industry, which reflects on our fantastic work we have done all across the UK that you can view on our case studies page and gallery. We have over 800 happy satisfied customers thus far, and have unrivaled service with unmatched quality.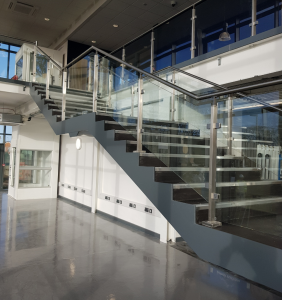 Do you need an expert's insight for your staircase balustrade project?
Want to get started? Well we're on hand to talk you through every step of your project, ensuring your requirements are met so that you get the exact result that you're looking for. From helping with designs all the way through to aftercare, we're on hand to guarantee satisfaction. Get in touch today to start your staircase project, and feel free to check out our TrustPilot Reviews for more insight into our happy customers.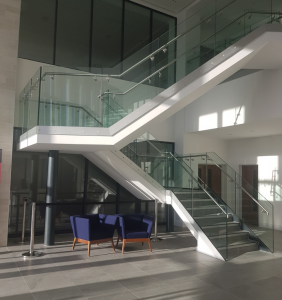 Supply-Only Balustrade Parts
Are you just looking for parts? Well we can help! At SMART Balustrades we host a lot of products we offer that are perfect for both small and large projects, from balustrade parts, handrails and fixings. Get in touch with our team for more information or visit our instant quote tool and use our smart builder to get an estimate instantly.
Don't just take our word for it!
Explore our case studies to follow our projects from start to finish. We have an abundance of completed projects and we've gained an excellent reputation for unrivalled quality balustrade installations, so feel free to also read some of our excellent TrustPilot reviews.
Get in touch
Do you like what you see? Start your project with SMART Balustrades today by using the form below to get in touch with our expert team.
Staircase Balustrade FAQs
Find out more about staircase balustrades on our blog!
Jade
From balustrades to banisters, all of which come under a category that keeps your spaces safe from falls as well as elevating the aesthetic. Whether you're a hotel or buying your first house, keeping your
Jade
What are the benefits of a glass staircase? A glass balustrade staircase provides a modern, clean and bright aesthetic to your space. For an added sophisticated touch of elegance, glass staircases are the perfect choice.
Jade
Building regulations, no matter how strict, should always be followed to protect the users from any injury, and to keep your home or business space safe. The incorrect construction of a balustrade could delay a