Building regulations, no matter how strict, should always be followed to protect the users from any injury, and to keep your home or business space safe. The incorrect construction of a balustrade could delay a project, which adds further costs and can put people in harm. It is best to follow an approved document issued by the government, such as the Document K. Document K was first published in 2010 and later revised in 2013, which related to balustrade building requirements. This blog will take you through some of the key factors and provide some insight into the rules and regulations of balustrades.
Where and when are balustrades needed?
Domestic properties:
Building regulations require that when there are any flights of stairs, raised areas or landing in a single-family dwelling, there must be a balustrade if there is more than 600mm difference between the adjacent levels. This can include sunken areas, any part of the floor, gallery, roof or balcony. 
The height of the balustrade is very important too, and it needs to be at a height that will prevent users from falling. Depending on where in the home your balustrade is located, the height may differ. For a single family dwelling, as defined in Document K and BS6180, the minimum heights of balustrades from floor to finish based on their positions are:
Barriers in front of windows – 800mm
Stairs, edges of internal floors and landings, ramps – 900mm
Exterior balconies such as juliet balconies, roof edges, etc. – 1100
Commercial properties:
For commercial properties, or properties other than domestic properties, this difference in height changs, becoming 380mm. Therefore, you will need a balustrade where there is a difference in floor level of 380mm or above, which is almost half that of a domestic property. This is due to the lack of familiarity with the area, increase in volume of people and increased use of the area.
Balustrade building regulations for glass balustrades
Glass balustrades are constantly gaining popularity due to their modern aesthetic.Balustrade building regulations have a minimum height requirement from the datum (the point on which a handrail is stood). In a dwelling, this is 900mm, and 1100mm from the datum to the top of the handrail for external balconies.
Public buildings have different regulations, and it depends on how the space is used. It is commonly 900mm for flights of stairs, but it can be raised to 1100mm if specified. Landings and assembly points in most factories are also the same height requirements. The smallest minimum height requirement is for assembly points with fixed seating, where a glass balustrade must stand at 800mm high with a space of 530mm between the balustrade and seats, which allows access.
Balustrade building regulations for metal balustrades
In public buildings, stairs that are less than 1000mm wide require at least one handrail. Stairs that are wider than this, must have a handrail fitted on either side as a safety precaution. Along landings and ramps, a continuous handrail must also be provided, and these must have a finish that reduces the risk of injury from clothes becoming caught on the handrail.
Similar to glass balustrades, the metal counterpart must adhere to balustrade building regulations regarding height. If a balustrade stands 1100mm from the datum, it must be in place when there is a drop or change in floor levels of 600mm, with the bars being 99pm apart.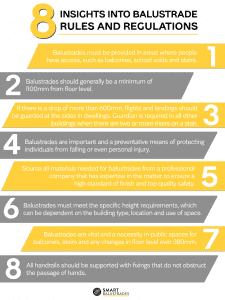 8 key insights for balustrade rules and regulations

Balustrades must be provided in areas where people have access, such as balconies, school voids and stairs.
Balustrades should generally be a minimum of 1100mm from floor level.
If there is a drop of more than 600mm, flights and landings should be guarded at the sides in dwellings. Guardian is required in all other buildings when there are two or more risers on a stair.
Balustrades are important and a preventative means of protecting individuals from falling or even personal injury.
Source all materials needed for balustrades from a company that is professional and has expertise in the matter, to ensure a high standard of finish and top quality safety.
Balustrades generally must meet the specific height requirements, which can be dependent on the building type, location and use of space.
Balustrades are vital and a necessity in public spaces for balconies, stairs and any changes in floor level over 380mm.
All handrails should be supported with fixings that do not obstruct the passage of hands.