SMART Handrail Installation Across the UK
The SMART range of handrails that we offer combine elite design, quality and practicality. We are able provide a selection of stainless steel and timber handrails, all of which can be customised and altered to your taste, whether you are looking for a modern handrail or something more traditional, we can help elevate the aesthetics of your space.
Our stainless steel handrails are all available at grade 304 for internal use or 316 for external use, and come in a choice of finishes and diameters. Using our powder coat we can also customise your stainless steel handrail to match any colour you wish to perfectly compliment your space, this allows an original feel and defeats any worry of our work not fitting in with your style.
SMART Handrails offer strength, durability and style to match any balustrade – whether you are looking to choose the right style to pair with one of our balustrade systems or you're just looking for handrails for your own DIY project, we are happy to help assist you in your choice according to your needs and wants. Not only are they a great investment, they also provide extra safety to your spaces to help avoid any falls and provide more of a grip.
We have successfully supplied and installed hundreds of handrails for our satisfied customers for use in a number of different applications, including care homes, schools and hotels. Our SMART Handrails are versatile, so they can be fitted to balustrades, walls, staircases, landings and along the floor to provide support, security and barriers where required.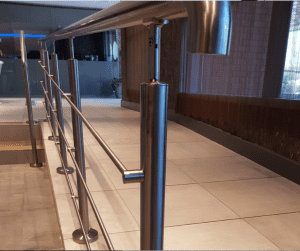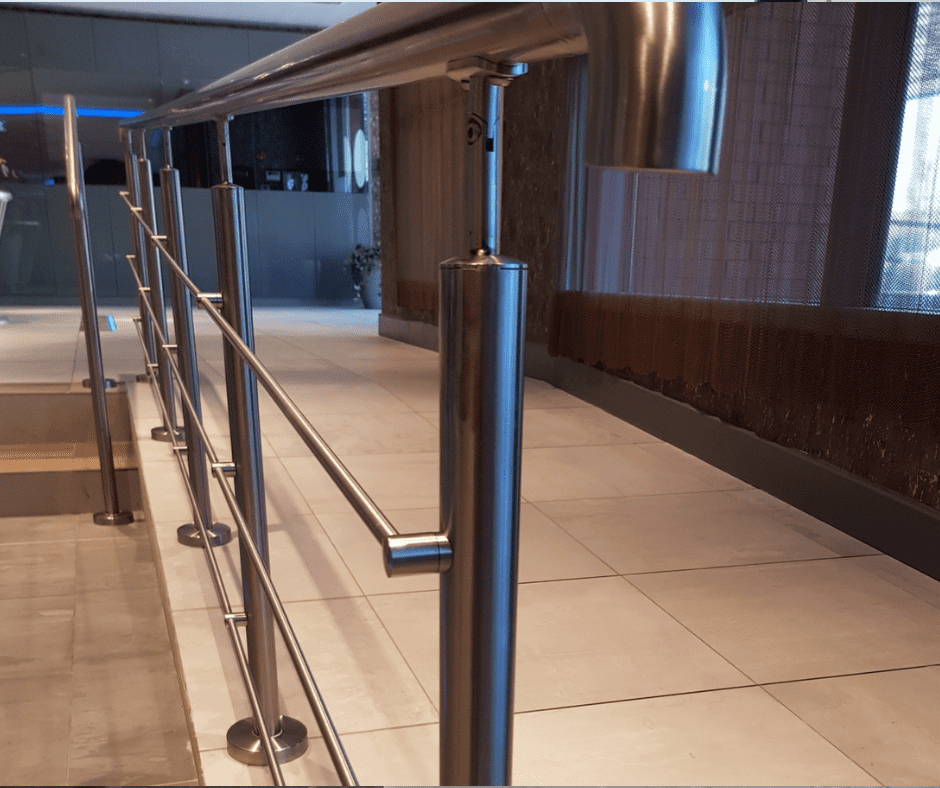 Stainless Steel Handrails
At SMART, we offer a selection of rust-resistant stainless steel handrails suitable for indoor or outdoor spaces. For internal spaces, we can provide satin brushed (320 grit) grade 304 stainless steel. Externally, we offer grade 316 stainless steel either satin brushed or mirror polished finish to provide a glossy, contemporary look. Both options are available in 42mm and 48mm diameter.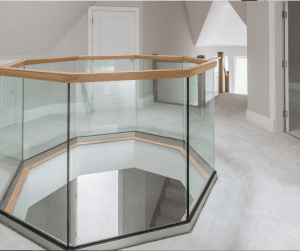 Timber Handrails
Our Timber Handrails are beautiful, stylish circular handrails that, with some maintenance, provide great longevity and durability. Our timber handrails have steel core rails built into the wood to provide additional strength, providing a great alternative to the classic balustrade look. We do not recommend the use of timber handrails outdoors, we recommend indoor use only as the natural timber can be susceptible to expansion and contraction when exposed to the Great British weather which can cause problems with the joints. We can provide handrails made from high quality timber in oak, ash, maple or beech, all available in 42mm and 48mm diameter.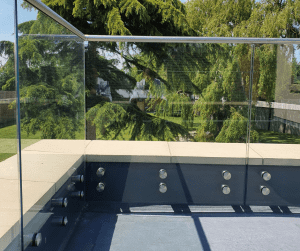 Handrails for Frameless Balustrades
Fully-frameless balustrades usually don't have any handrails, hence them being completely frameless. However, semi-frameless balustrades don't have any supporting posts but usually contain a handrail on top, be it stainless steel or timber. If you are looking for a completely seamless balustrade, take a look at our options here.
Handrail Installation Service Across the UK
With our combined experience of 170 years in the balustrade industry, our expert team can help you from start to finish of your project whilst providing you with unrivaled quality and great prices. All of our work we do is covered under our guarantee, which will let you rest easy and know that you're going to receive unmatched quality in our products and excellent service. If you would like a second opinion, feel free to read some of our excellent TrustPilot reviews.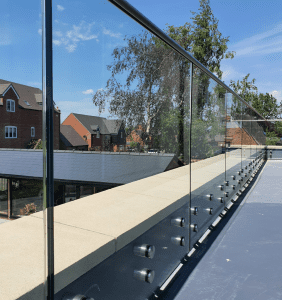 Get In Touch
Have a question? Our friendly experts are always on hand to offer our insight and advice on any project be it large or small. We're able to supply balustrades, handrails and other parts as well as offer full-service installation by our expert fitters for that added peace of mind. Also, if you have any balustrade projects coming up and want an estimate on pricing, you can also try out our 3D Balustrade Planner. Don't hesitate to get in touch today to start your project!
Take a look at our work
With hundreds of successful projects completed for our happy clients, it's no wonder that we have gained a fantastic reputation within the balustrade industry. You can view our case studies to follow our projects from start to finish. Need some handrail inspiration? Then take a look at our gallery and wander through our previous projects.
Get in touch
Do you like what you see? Start your project with SMART Balustrades today by using the form below to get in touch with our expert team.
Find out more about handrails on our blog!
Sam Read
What are Juliet balconies? A Juliet balcony, often known as a "French balcony" or a "Juliette balcony," is a lovely architectural element that adds a touch of European romance to contemporary living spaces. Unlike traditional
Sam Read
What is a terrace? A terrace is an outdoor living area that's like an extra room for your home. It can be a small balcony, a rooftop space, or a garden patio where you can
Sam Read
Introduction to Balustrades What is a balustrade? Usually topped by a horizontal handrail, a balustrade is a barrier that can be made up of various materials, such as glass and stainless steel. Balustrades enhance the