Balustrades are an excellent way to add character and elegance to your space, whilst improving safety at the same time. Balustrades come in all different shapes and sizes; there is one for every style and need, whether you want extra safety on your staircase, or privacy on your balcony. You can find them in many different materials, including glass, timber and stainless steel. You're able to integrate a balustrade into your home or commercial space through juliet balconies, terraces, staircases, walkways and so much more. Choosing a balustrade that compliments the design of your home or commercial space is important, and with these balustrade ideas we hope to provide you with some inspiration.
Balustrade ideas
Timber
Timber balustrades are the perfect fit for an inside balustrade, adding a modern, clean and rustic look to your space. As the perfect addition to elevate your design, they're able to deliver sophisticated looks to businesses too. Wood is an excellent choice if you're after a more organic feel to your home or commercial space, allowing a natural feel and to blend in with the landscape. 
Wood options can vary and provide some personality and originality to your balustrade, as every piece of wood has a different pattern. Depending on the wood, your balustrades look and colour can vary, but the ability to offer safety and style will always be available. With a comforting and warm aesthetic of timber, this is a great choice for making your space feel more welcoming.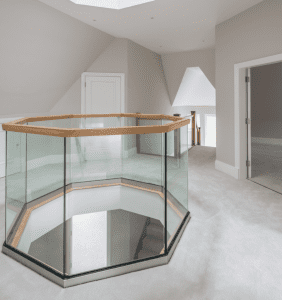 Glass
Glass balustrades are the perfect addition to a space if you want to add a touch of class and safety. They can be used in any room of the house or a commercial building, inside or out, and they're not only extremely durable but also easy to clean with many variations. With colour options and various sizes available, you're given total control of the glass appearance. This versatile balustrade allows for more light to pass through, providing an illusion of more space and a brighter atmosphere. Glass looks fantastic in both modern and traditional homes, complimenting a contemporary aesthetic or having an attractive juxtaposition to traditional spaces.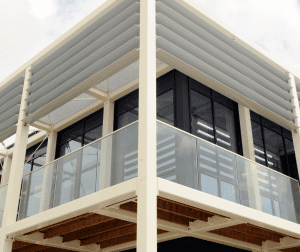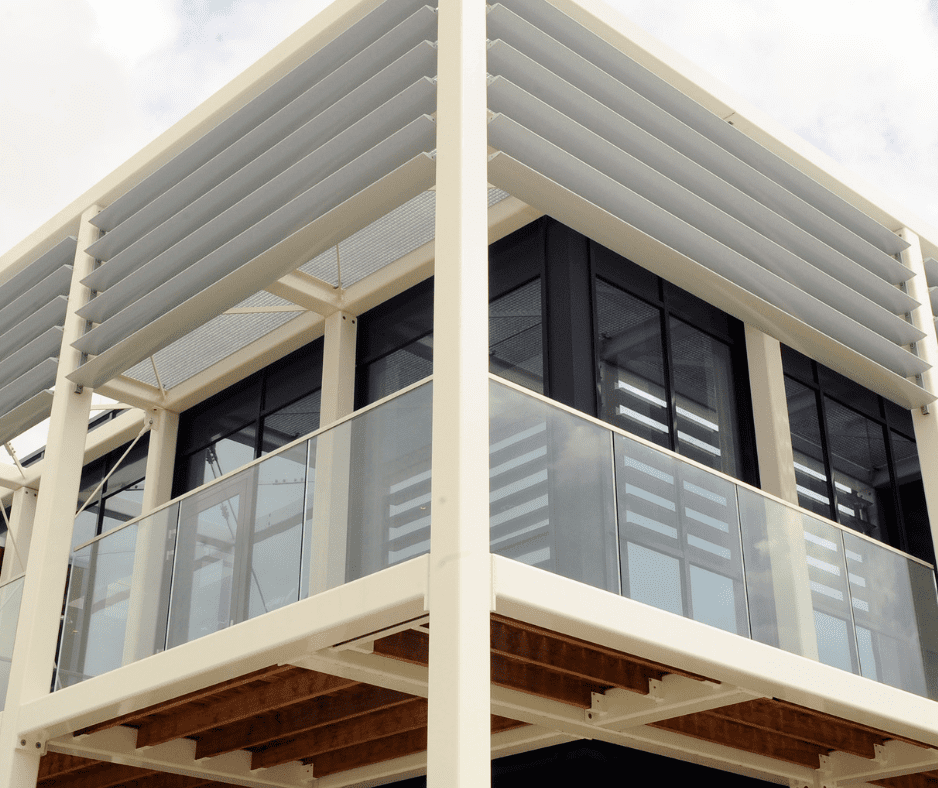 Stainless steel
Stainless steel balustrades are durable, strong and easy to clean. They are a great option for outdoor use as they do not corrode or rust. Stainless steel balustrades are very popular with businesses as they provide a strong barrier that can be used in many areas such as staircases, balconies, terraces and more. As they come in a variety of finishes and styles, stainless steel balustrades are very versatile with a wide range of options to suit your taste and budget. 
Due to its weather resistant properties, stainless steel is an extremely popular material for outdoor architectural elements. Its durability and safety are key selling points, which makes it a popular choice for commercial properties, staircases and balconies.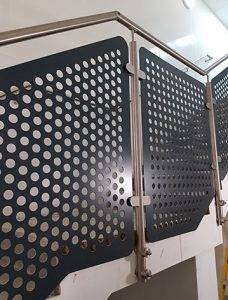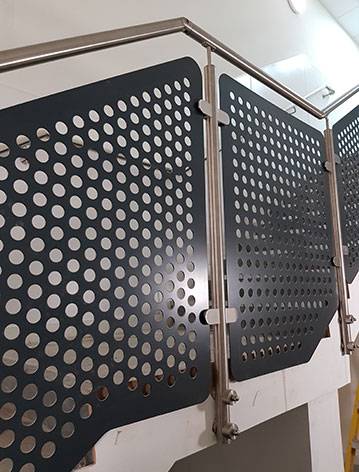 Mix and match balustrades
Our strong, durable and high quality balustrades are available to be customised to your needs. We are able to mix wood and steel to provide a sturdy yet natural feel of timber, that is mixed with the safety and structure of steel. We are able to provide glass balustrades with timber cappings (or handrail, top rails), providing a clean yet organic look to your space that opens the room for light but also blends in well with the landscape. The choice is yours, but a mixture of materials with balustrade can really boost your space with custom elements to fit in seamlessly with your style.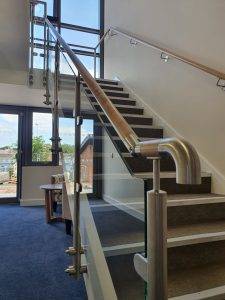 Frameless balustrades
For a sleek, clean and ultra modern balustrade, frameless glass is your go to. With low-iron glass you're able to have ultra clear balustrades which is a popular choice for sophisticated spaces. If it's more of an intimate setting, you're able to go with a frosted glass to act as a privacy screen, but it still keeps that seamless and frameless look.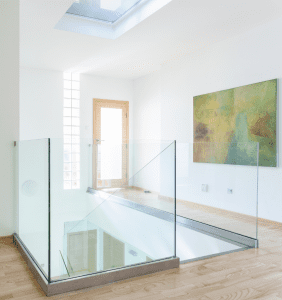 Improving your balcony view
Having a balustrade on your balcony can allow you to spend more time outdoors in the comfort of your own home. Balconies provide access to fresh air and a good view with the perfect space to relax. With a glass balcony, you're able to have a clear and open view of the landscape whilst keeping your balcony modern and bright. Try opting for a structural glass with a stainless steel balustrade to have a high quality, clear and strong border for your balcony. These can transform a house into a modern space and keep your loved ones safe from even the smallest drops.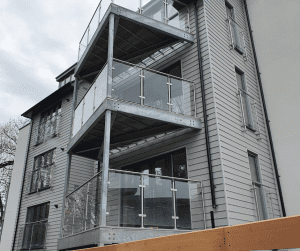 Curved balustrades
Elevate your space with a curved balustrade which offers a contemporary and seamless design. With curved balustrades you have the opportunity to make your space look much more interesting and add character, especially if your building has curves already. From spiral staircases to curved balconies, you're able to implement bended glass for a clean and expensive look.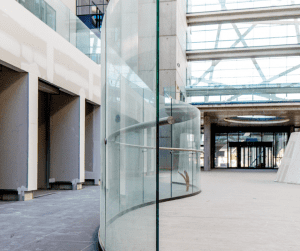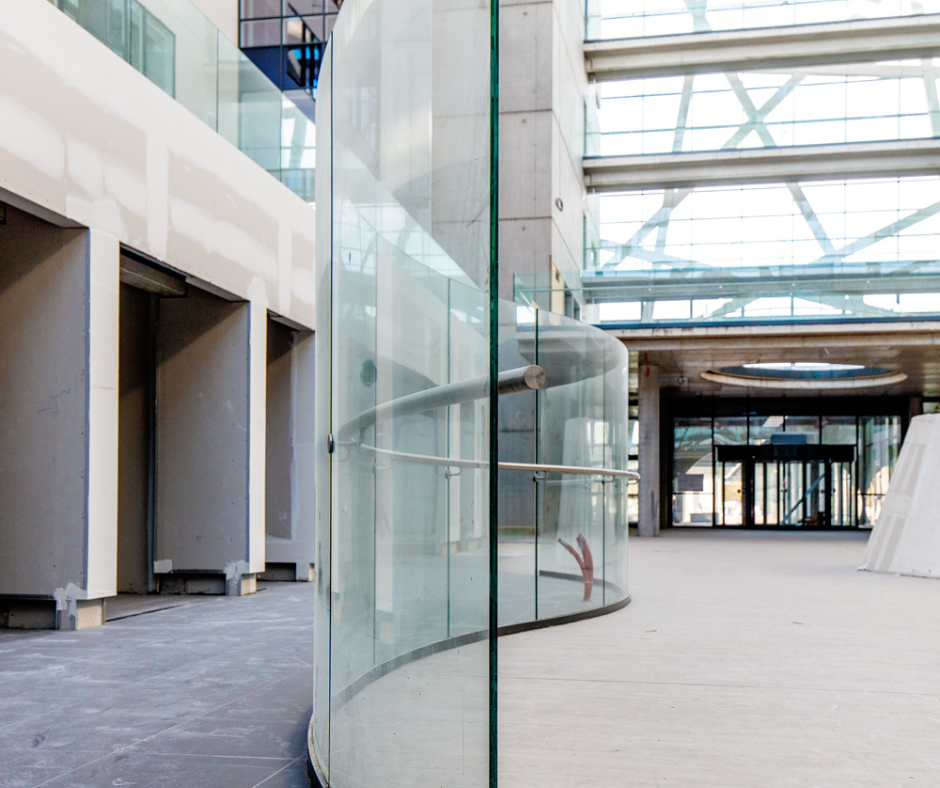 Customised colour
Customisation is key when it comes to designing your space. You want your balustrade to fit into your house or commercial property whilst complimenting the surroundings. Try going with customised colours from various wood colours whether it's a lighter beech or a darker oak. If it is a stainless steel balustrade you're after, try choosing a coloured powder coat finish, or stray from the normal clear glass balustrade with glass tints. If it is just a slight splash of colour you're after, you could go with a more muted balustrade and a coloured handrail.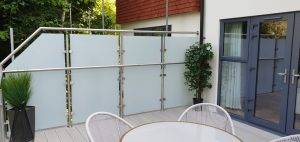 Conclusion
Hopefully these ideas have sparked inspiration for you to install a beautiful and safe balustrade into your home or space. With an abundance of different designs and materials to choose from, it is easy to find a balustrade that matches your personal taste and compliments the surroundings to fit in seamlessly. If you're looking for sturdy, high quality and beautiful balustrades, make sure to get in touch with us at SMART today. If you require information instantly, try out our 3D balustrade planner tool for an instant quote!